Besides having excelled as a manufacturer of Chelating agents (EDTA, DTPA, NTA and their derivatives), Chelated Micronutrients and Fine Chemicals, in addition, AVA Chemicals offers Contract Manufacturing Services.
AVA Chemicals' team consists of well experienced chemical engineers who carry out operations in a very efficient way. The team includes chemists, well experienced experts in quality analysis and quality control, data scientists and market researchers who study the market according to current trends and provide the best technical solutions for future in terms of product and process advancement.
We assure to provide you with a one roof solution for all contract manufactured products efficiently in terms of operation, regulation and cost. Hence, reducing your burden of manufacturing and reduce the supply chain, enabling you to focus on your core competencies.
How do we deal with Custom/ Contract Manufacturing?
We deal with the manufacture of over 200 different inorganic fine chemicals. Such products are manufactured for large pharmaceuticals on campaign basis.
We have also developed special capabilities in "custom manufacturing" of inorganic fine chemicals. Usually, this is done by one of the following options:
The Customer either shares their proprietary process / technical knowhow OR
Customer would seek AVA's expertise in developing a specific product.
In either case, we sign Memorandum of Understanding (MOUs), Confidentiality Disclosure Agreements (CDA's) / Customer Protection Guarantee (CPG's) etc, which is a standard practice.
Who do we currently serve?
Contract manufacturing for Rubber Companies
Contract Manufacturing for Oil and Gas Industry.
Contract Manufacturing for Metal Coating Industry
Contract Manufacturing for Agrochemical Companies
Contract Manufacturing for Water Treatment Companies
Contract Manufacturing for Specialty Chemical Companies
Contract Manufacturing for Pharmaceutical Companies
Chemical Reaction Facilities

AVA Chemicals provides facilities for carrying out various
Chemical reactions:
Acetylation
Coupling
Grignard reaction
Addition
Cyanation
Halogenation
Alkylation
Cyclisation
Hydrogenation
Amidation
Diazotation
Hydrolysis
Aminolysis
Esterification
Melting reaction
Bromination
Etherification
Nitration
Catalytic
Heterocyclic synthesis
Oxidation
Chiral chemistry
Ethoxilation
Quarternisation
Condensation
Fridel-craft
&bnsp;
Equipments
Utilities
Blender
GLR
Air Compressor
Tray Dryer
Leaf Filter
Boiler
Sieving Machine
Miller
Chilling Plant
Centrifuge
Pilot Plant- 50 Litres
Cooling Tower
Crystallizer
Rubber Line Reactors
D. M. Water Plant
Distillation Unit
Sparkler Filter
Thermo Pac
Evaporator
Spray Dryer
Vacuum Pumps.
FBD
SSR
Water/ Steam Jet ejector
Reactors ranging from 2 KL to 10 KL Capacity
Water Ring Pump
Equipment / Facilities
QC/QA Equipments
AAS
Oven
Analytical Weighing Balance
pH meter
Boiling Point Apparatus
Polarimeter
Dual Wavelength U.V. Cabinet.
Potentiometric Titration Apparatus
Gas Chromatography (GC)
Pycnometer
HPLC
Spectrophotometer
Karl Fisher Apparatus
UV Chamber
Laboratory Oven
Viscometer
Melting Point Apparatus
Water Still 4 litre/ hr. Capacity.
Muffle Furnace
Apart from these, we have -
Adequate, spacious, well equipped, maintained facilities that are available of producing fine chemicals, intermediates or finished products on contract/ toll basis.
Facilities capable of carrying out multiple stage production processes including: reactions, chemical synthesis, blending, crystallization, filtration and others.
Diverse experience in carrying out multi staged reactions under controlled parameters ensuring that our customers acquire solutions to complex needs of specialty fine chemicals.
Unique and integrated manufacturing capabilities that facilitate a strong program for made- to-order items.
ETP- Arrangement with local Common Effluent Treatment Plant (CETP) for waste & effluent management.
| | |
| --- | --- |
| Installed Capacity | Spare Capacity |
| Approx. 14000 MTs | Approx. 18 - 24% |
Large Capacity-Our present capacity is on double shift basis and can be scaled up on depending on the need. A large part of the spare capacity can be committed for contract/ toll manufacturing.


Best Logistics
Availability of good CHAs. Long standing relationship with leading shipping lines, freight carriers etc ensure timely deliveries and good logistics support.
Variety in Packaging
We offer a vast choice of packaging to our customers:-
| | |
| --- | --- |
| Solid Products | 25 Kg Plastic Bags, Kraft Paper Bags, 500 / 1000 kg Jumbo bags, Plastic Drums, Fiber Drums ranging from 25 to 100 kg. |
| Liquid Products | 50 / 65 kg Blue / Grey Carboys, 210/250 kg plastic drums, IBCs, ISO Tanks, SS Tanks, flexi tanks etc. |
| | |
| --- | --- |
| Certification & Recognition | Plant Location |
| | |
Since we manufacture many of our own starting materials, we maintain a strict control over every production process. This enables us to make adjustments in materials and processing techniques at necessary points to match the exact requirements of our customers' specifications.
Third party manufacturing / Toll manufacturing
We provide our specialised equipment, infrastructure and services to processes raw materials or semi finished goods for our clients. Industries Served Pharmaceutical, Soap and Detergent, Chemical, Food and Agro, etc.
Chemical Job Work
Aims at improving the quality of life by converting raw materials into more durable and usable products Services offered:Chemical testing, Chemical mixing, Reactionary testing and analysis, etc.
Repacking and Labelling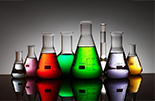 We have a pool of industry professionals who are proficient in packaging and they use of high grade material and equipment for packaging. This service is accomplished in timely manner and is considered to be one of the best. Our experts use cartons, bags different material as per the packed product requirement
If you are looking for immediate and unique business solutions, outsourcing of your products, process scale-up, custom manufacturing or an extension of your manufacturing line, AVA Chemicals is ready to discuss your specific requirements and offer appropriate solutions.